At Agricultural Connections, we participate in and believe in the integrity of our Central Oregon foodshed. By buying from local farmers, we support our producers and provide them with a stable income source and the satisfaction of having the community know who they are and enjoying what they grow.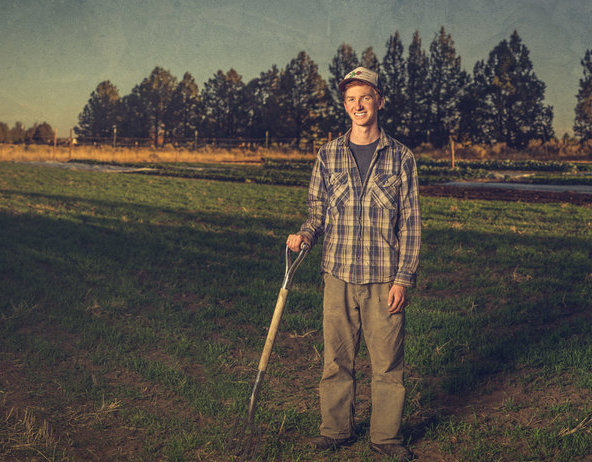 Radicle Roots
Radicle Roots Farm is a sustainable market garden located just outside of Bend, Oregon. Established in 2015, James Bernston grows heirloom and specialty produce using organic practices for local farmers markets, restaurants and distributors on less than one acre of land.   The soil is enriched with locally sourced compost and organic fertilizer; never using any synthetic pesticides, herbicides or fertilizers of any kind. All the vegetable varieties grown are non-GMO and are selected for superior flavor and nutrition. 

What are they growing?   arugula, asparagus, cabbage, carrots, collards, corn, cucumbers, green lettuce, lettuce mix, kale, kohlrabi, leeks, peppers, onions, scallions, summer squashes, tomatoes, and ten varieties of potatoes.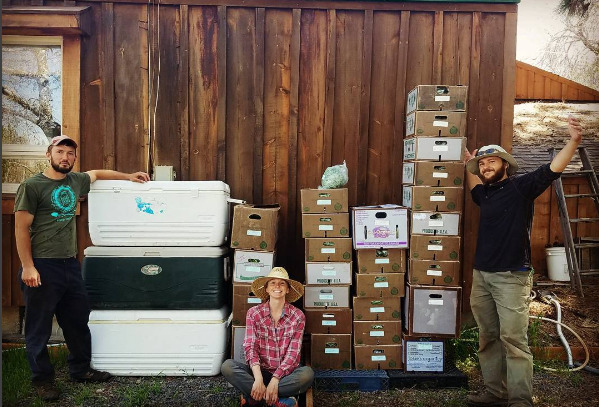 Fields Farms
Fields Farm is a 10 acre vegetable farm located in Bend, Oregon, only a few miles from downtown.  Jim and Debbie Fields have been growing produce for the local market since 1989. Fields Farm is a sustainable farm using pesticide free, soil building methods and has been a family run farm for 24 years.            

What are they growing?   arugula, asparagus, cabbage, carrots, collards, corn, cucumbers, green lettuce, lettuce mix, kale, kohlrabi, leeks, peppers, onions, scallions, summer squashes, tomatoes, and ten varieties of potatoes
Rainshadow Organics
Rainshadow Organics is a market garden located located fifteen miles Northeast of Sisters, Oregon.   The family farm is operated by Sarahlee Lawrence  who grows dozens of varieties of certified organic vegetables, herbs, berries, and flowers on 27 acres. All of the harvested crops are distributed within 50 miles of the farm.  Rainshadow Organics is certified organic with transitional land and use only sustainable practices, no chemical pesticides, fertilizers, or herbicides.  The soil fertility is built with composted horse manure from a barn where we sell our hay.  We also employ our chickens and an army of worms who supply castings for worm tea that we inject into our irrigation system.  An intricate ecosystem  is fostered with companion planting, nutrient cycles, flowers, bees, riparian areas, crop rotation, and undisturbed native desert.  

What are they growing?   heirloom vegetables and heritage breeds that are adapted to the harsh high desert climate, wheat, pastured meat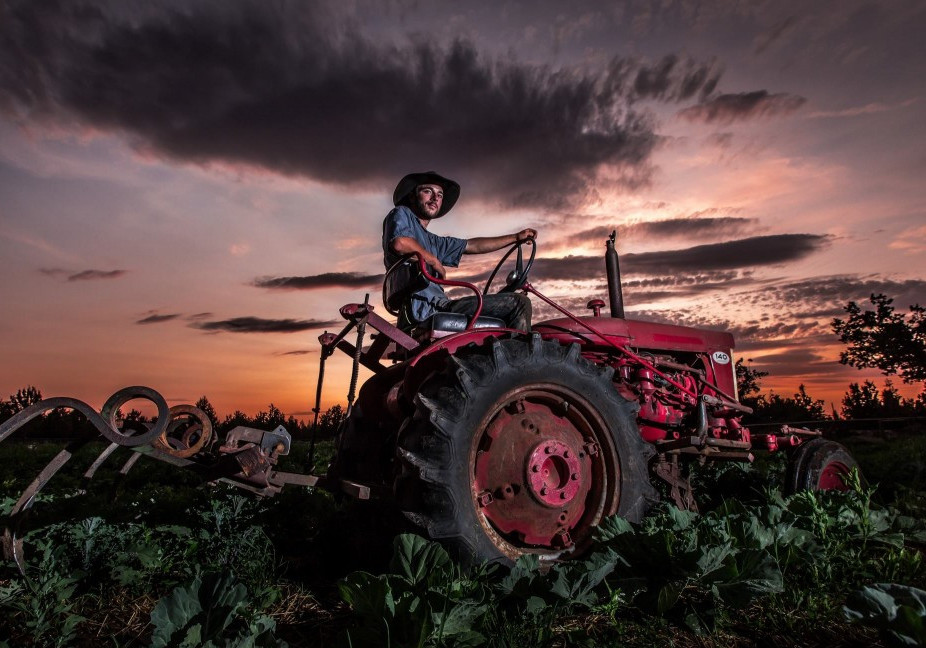 Juniper Jungle Farms
Juniper Jungle Farm follows permaculture and biodynamic principles to create a sustainable growing environment.  Chris Casad is the driving force behind Juniper Jungle Farm.  He believes permaculture and biodynamics are holistic approaches to agriculture that address long-term needs of the land and the people living on it. By using these approaches, aspects of farming such as plant cultivation, animal husbandry, commerce, water and energy usage, land management, and education are woven together in a way to help them work together better than they would separately. Juniper Jungle Farm uses these practices because they feel that it is important to keep the big picture in mind and to be stewards of the land in a way that will benefit ourselves, the land, the animals and the future.    

What are they growing?   cabbage, celeriac, chard, garlic scapes, ground cherries, kale, mustard greens, onions, varietal potatoes, radishes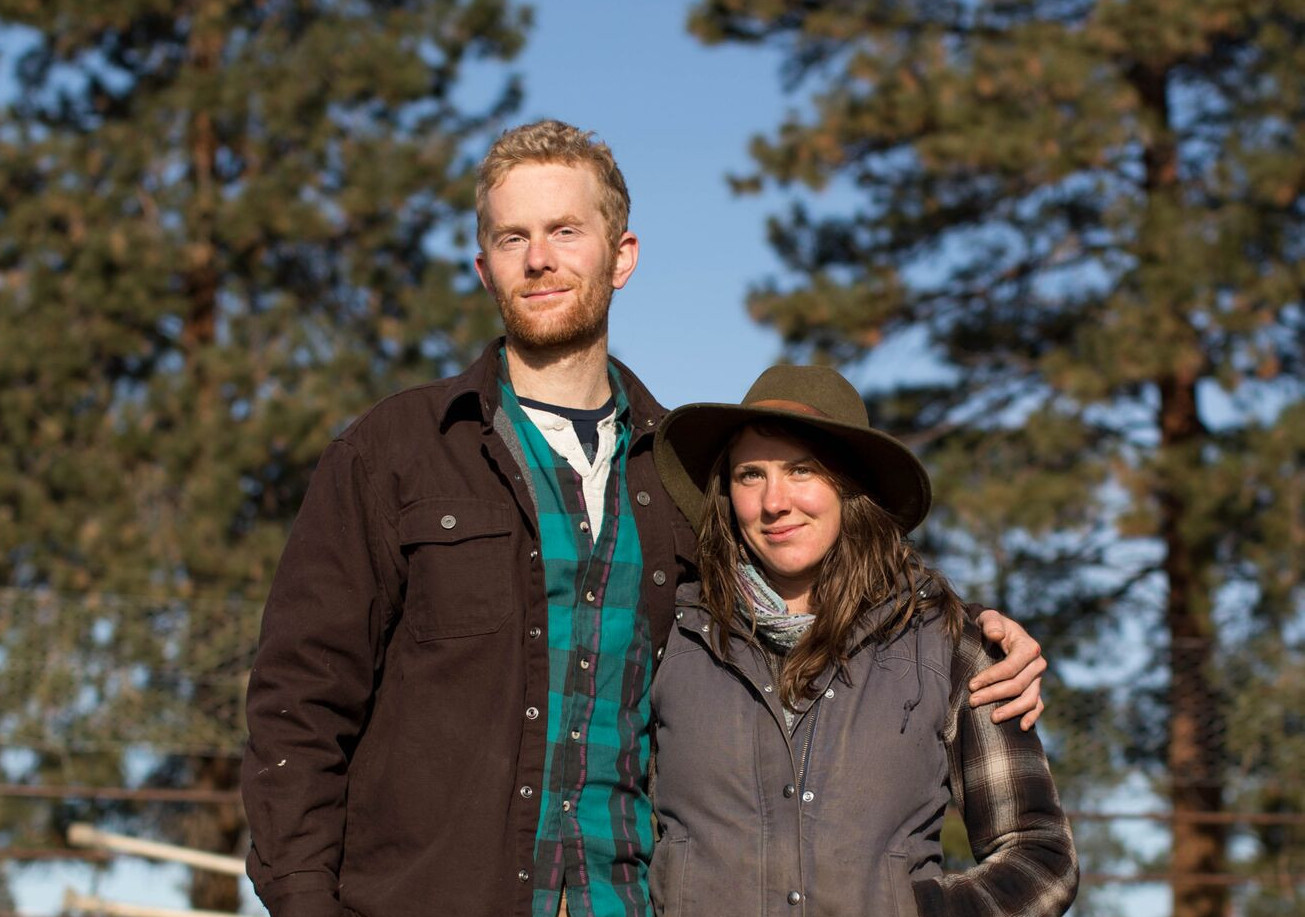 Mahonia Gardens
Mahonia Gardens is a one-acre market garden in Sisters, Oregon, dedicated to growing quality produce. They use absolutely no harmful chemicals in the production—no pesticides, herbicides, chemical fertilizers or anything. Instead Benji and Carys focus on growing healthy soil by making and adding loads of compost, adding minerals such as calcium, magnesium, and iron. Given the limited space, they maintain small paths—usually about 1' wide—to accommodate the greatest amount of cultivated space. Most labor on the farm is done by hand, using broad forks and digging forks to create and maintain beds. 

What are they growing?   beets, carrots, turnips, onion, potatoes, garlic, radishes, sunchokes, broccoli, cabbage, napa cabbage, tomatoes, tomatillos, peppers, eggplant, kale, chard, parsley, cilantro, salad mix (baby kale, radicchio, baby chard, arugula, spinach, lettuce, mustard), and more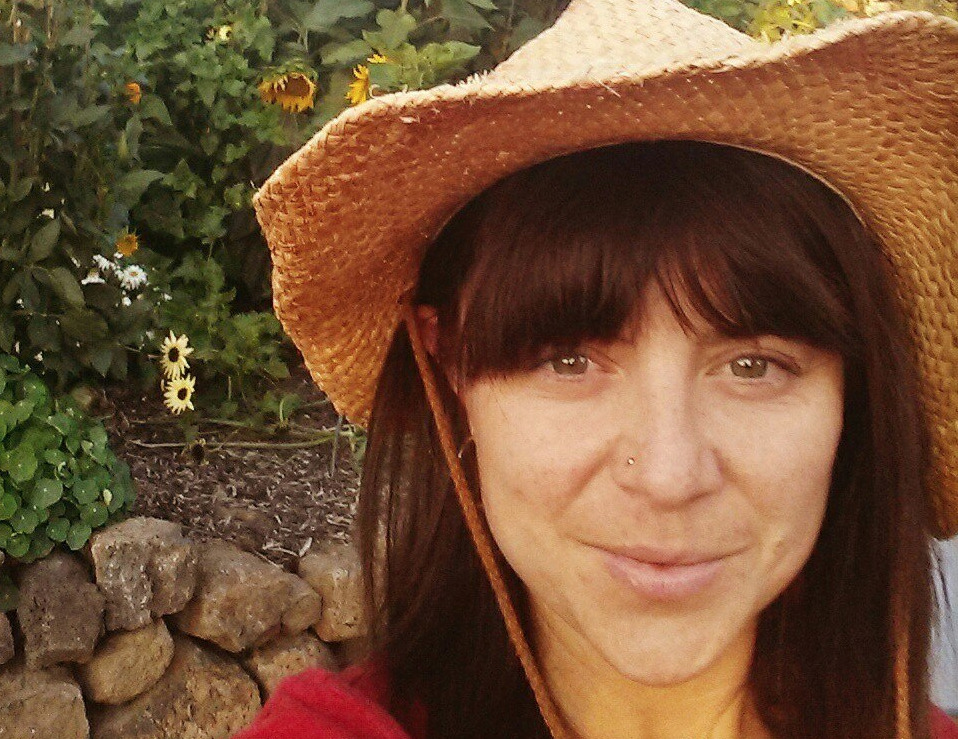 Tender Greens
Tender Greens is a local grower of microgreens and edible flowers.  Jessica Wilkinson runs this family owned business located on ten acres north of Bend called Sofia Heirloom Gardens. Using sustainable and environmentally friendly farming practices, they are dedicated to growing the highest quality, nutrition packed, and visually stunning microgreens for both the restaurant community and the home chef.

What are they growing?  Microherbs: Basil, Carrot, Celery, Chervil, Cilantro, Dill, Fennel, Garlic Chive, Parsley, Shungiku. Microgreens: Arugula, Curly / Presto Cress, Daikon Radish, Merlot Radish, China Rose Radish, Mizuna, Giant Red Mustard, Red Streak Mustard, Pink Kale, Purple Kohlrabi, Silver Turnip, Sorrel, Buckwheat. Shoots, Tendrils & Long Stemmed Garnish: Green Pea Shoots / Tendrils, Yellow Pea Shoots / Tendrils, Yellow Corn Shoots, Azuki Bean Shoots, Kaiware Long Stemmed Merlot Radish, Kaiware Long Stemmed Daikon Radish, Kaiware Long Stemmed China Rose Radish.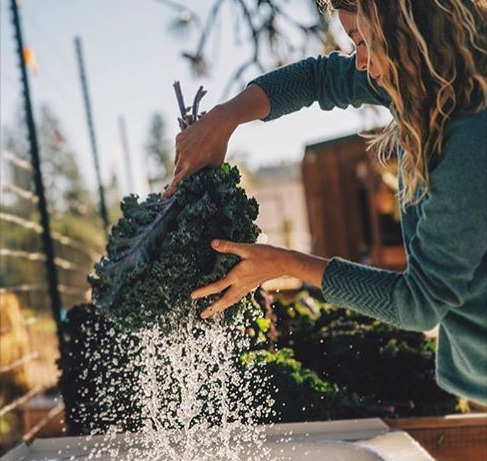 Seed to Table
Seed to Table Farm is centered around a 2 acre market garden, located on an amazing 40 acre farm in Sisters.  Seed to Table Farm is a truly unique model striving to provide the community with equal access to local & nutritious foods and to connect the community through farm based education. Seed to Table has a diverse operation providing farm based education to nearly 700 students a year and growing over 40 diverse crops.  A major focus is on maintaining healthy soil ecosystems.   The farm has been expanding for the past three years.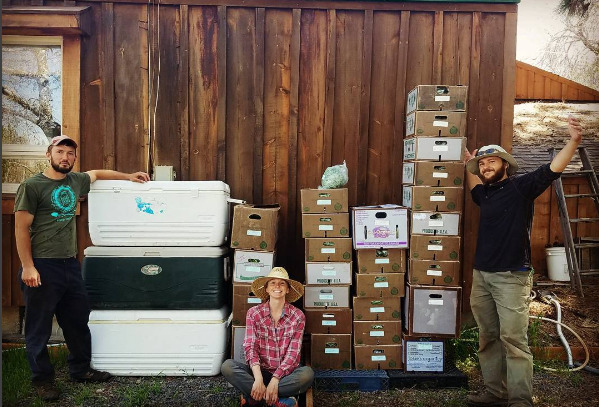 Windflower Farm
Windflower Farm is dedicated to growing gourmet-quality vegetables, herbs, fruit and flowers as well as AWA (Animal Welfare Approved) livestock (laying hens, dairy goats and heritage pigs).  Gigi Meyer has been practicing horticulture and farming for over 30 years, gardening in various climates and latitudes from the San Juan Islands to Taos, New Mexico to Tuscany, Italy.  She embraces the challenges of growing in Central Oregon and wants Windflower Farm to be a regional model for small-scale, bio-diverse, farm-to-table agriculture.  Windflower Farm uses only sustainable practices; no chemical herbicides, pesticides or fertilizers. The farm comprises 20 acres nestled amidst ranches and the Badlands, in pastoral Alfalfa, just 15 minutes east of Bend.
What are they growing?     heirloom varieties of tomatoes, eggplants, tomatillos, and peppers alongside a wide array of vegetables – heirloom lettuces, asparagus, fennel, braising and Asian greens, beets, potatoes, leeks, multi-hued carrots, snow, snap and shelling peas, squash, bunching onions, multi-hued beans, Armenian, and pickling and lemon cucumbers.  Herbs: edible flowers, tarragon, thyme, sage, chives, sorrel, Italian parsley, basils, dill, cilantro, lavender, savory and mints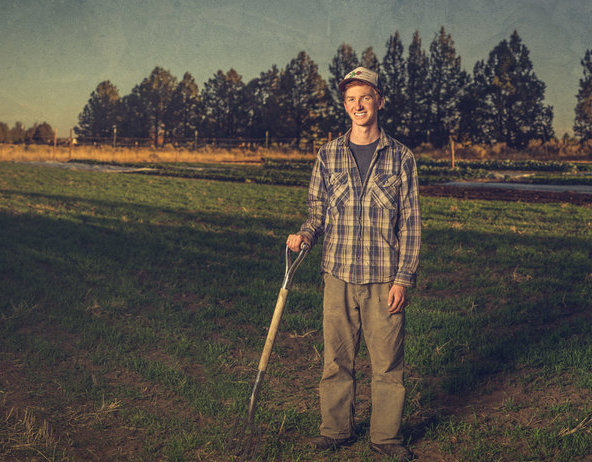 Deck Family Farm
Deck Family Farm recently celebrated their 13th anniversary of farming in the Willamette Valley. In that time, they have raised and cared for thousands of animals and provided a place for colleagues to work and learn the ins and outs of pasture-based farming. In an effort to support our local food community and be a resource to the aspiring generations of regenerative farmers, they make no compromises in practicing and teaching what they believe to be the necessary future of farming. 
What are they raising?  Grass-fed beef, Pastured Pigs, Spring Lamb, Pastured Chickens & Turkeys, and Laying Hens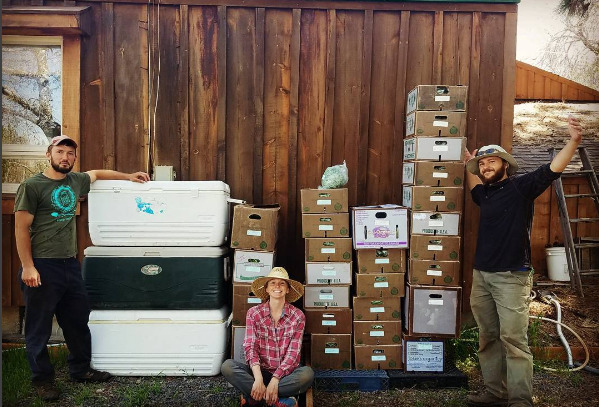 DD Ranch
DD Ranch, located in beautiful Terrebone, near Smith Rock, is known throughout Central Oregon as one of the best sources for organic grass-fed beef. Co-ranchers - the Duggin family and the Anspach family - are 100% committed to planting crops and raising herds sustainably and respectfully. DD Ranch is their life's work and they love sharing it with the community. Throughout the year, depending on the season, you can enjoy beautiful gardens, barbeques under the stars, 5k fun runs, pumpkin patches, hay rides, a Country Christmas, and Music by the Pond.
What are they raising?   Heritage cattle, Pastured Hogs, Free Roaming Chicken & Turkeys
See what's fresh in this week's Produce Box